One of the most important decisions a woman will make before she gets married is to select her perfect wedding dress. This is something that every little girl dreams of during her childhood. But don't let the hype and the pressure of years and years of anticipation cloud your judgment. After all, the dress is just a dress and should never be more significant than the occasion.
Things to consider in selecting the Wedding dress
One of the things brides-to-be have to consider when buying a dress is the comfort level of the wedding dress. Sure, it's nice to look like a princess on your wedding day, but if the dress causes extreme discomfort; or cuts off your circulation, it's not worth it. The dress might even cause you to faint. Imagine what a nightmare that would be!
The Wedding Dress Selection
The wedding dress selection process usually starts months before the wedding. It's advisable for brides-to-be to look through the pages of wedding magazines or to visit wedding shops. To give them an idea of the different styles of available wedding dresses.
Brides-to-be also have to consider their body types. It's essential to get a wedding dress that looks good on you! You might have to try plenty of wedding dresses before you find that one dress that is perfect for you.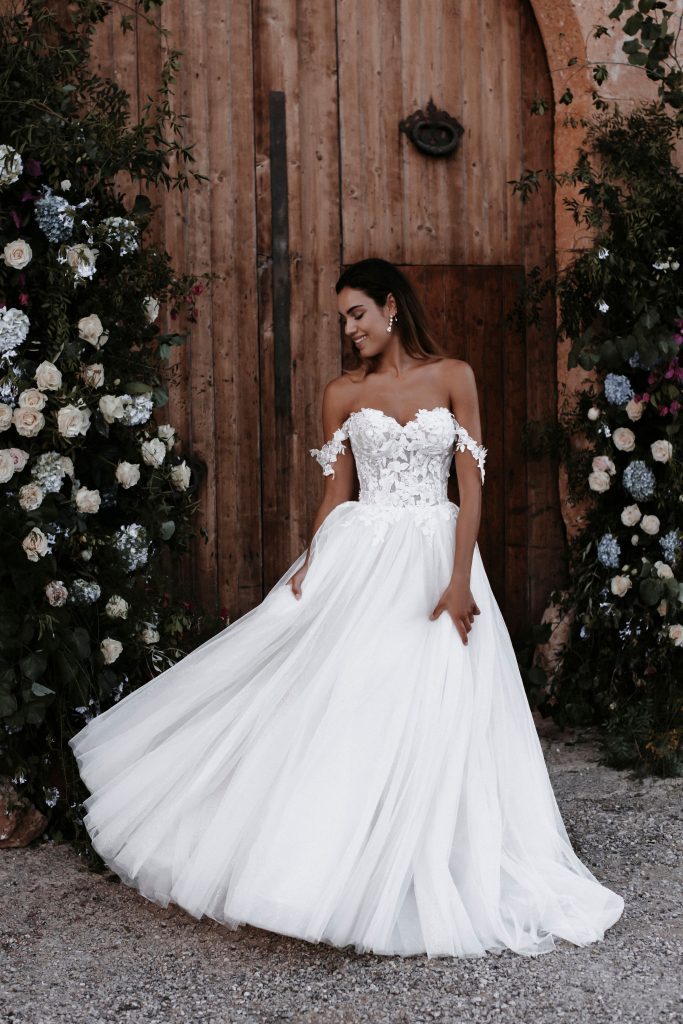 Pricing for Wedding Dress
Suppose you have set aside an extensive budget for your wedding dress. Then you can always go for a designer dress. The most famous name nowadays when it comes to bridal fashion is Vera Wang. She is known for her luxurious detailing, craftsmanship, and hand-beading. Her clients for her wedding line include Jennifer Lopez, Jessica Simpson, Uma Thurman, and Mariah Carey, to name a few.
Other Options
But you can always choose other options if you don't have much money to spare. For example, you can get your wedding dress in several places that won't cost you a fortune. In addition to traditional bridal shops, wedding dresses are available in thrift shops, discount stores, online, and even on eBay.
If you are buying on eBay, make sure the wedding dress measurements are included in the description. Also, the condition of the dress must be looked into. Finally, check for feedback regarding that person's account to ensure you deal with a credible dealer.
Traditional Wedding Theme
But if a traditional wedding is a theme you have in mind, then you should go for a vintage dress, in keeping with this theme. When buying a vintage dress, beware of discoloration or stains on the dress. These might take time to come off. Instead, investigate the fabric of the dress, and stretch it out to check for weakening or tearing of the cloth.
Try to buy a vintage dress that is made before the 1900s. Fabrics tend to deteriorate and weaken over time. Ancient vintage dresses might look romantic but might be better for use.
If you have your heart set on a specific design but find that that dress is too old or expensive, you can always go for a reproduction wedding dress.
Themes in Wedding Dresses
Many stores specialize in reproduction dresses. They design wedding dresses based on specific themes or eras. Some specialty wedding shops also focus on creating knock-off wedding dresses inspired by designer wedding gowns. The considerable difference is that these wedding gowns are retailed for a fraction of the amount.
A future bride can go about in search of her dream wedding dress in so many ways. Searching for a wedding dress should be exciting and fun. So make sure you have plenty of time before the big day, so this process doesn't become stressful and tedious—instead, a prelude to the happiness of the special occasion to become your wedding.
How to Find Your Dream Wedding Gown at Fiancée Bridal Boutique Boerne: Ready to find your dream wedding gown? Here's what you need to do:
Schedule an appointment: Contact Fiancée Bridal Boutique Boerne at +1830 431 8687 or info@fianceebridalboutiqueboerne.com to schedule your personalized appointment.
Share your vision: Let your stylist know what you're looking for in a gown, including your wedding theme, personal style, and any specific details you love.
Try on gowns: Your stylist will pull gowns for you to try on based on your vision and body type. Don't be afraid to try on dresses you wouldn't normally consider – you might be surprised by what you love!
Say "Yes" to the Dress: Once you've found the perfect gown, it's time to say "yes" to the dress! Fiancée Bridal Boutique Boerne makes it easy to take your gown home the same day, so you can start planning the rest of your wedding.