Boerne, Texas is not just a picturesque destination for weddings; it's a haven for brides seeking stunning wedding dresses that will make their special day truly memorable. With its charming blend of Southern elegance and Texan hospitality, Boerne offers a range of bridal boutiques and designers that cater to every bride's style and preferences. Whether you envision a traditional fairytale gown, a contemporary chic ensemble, or a one-of-a-kind custom creation, Boerne has it all. In this article, we will delve into Boerne's enchanting world of wedding dresses, exploring the diverse styles, designers, and shopping experiences available.
Traditional Wedding Dresses in Boerne
Boerne boasts an array of traditional wedding dress styles for brides who appreciate timeless elegance. Lace reigns supreme, with delicate, intricate patterns adorning bodices and sleeves. Ball gowns with voluminous skirts and fitted bodices create a regal silhouette. At the same time, long trains add a touch of drama and grandeur. Boerne's bridal boutiques feature a curated selection of traditional wedding dresses, allowing brides to enter their fairytale on their special day.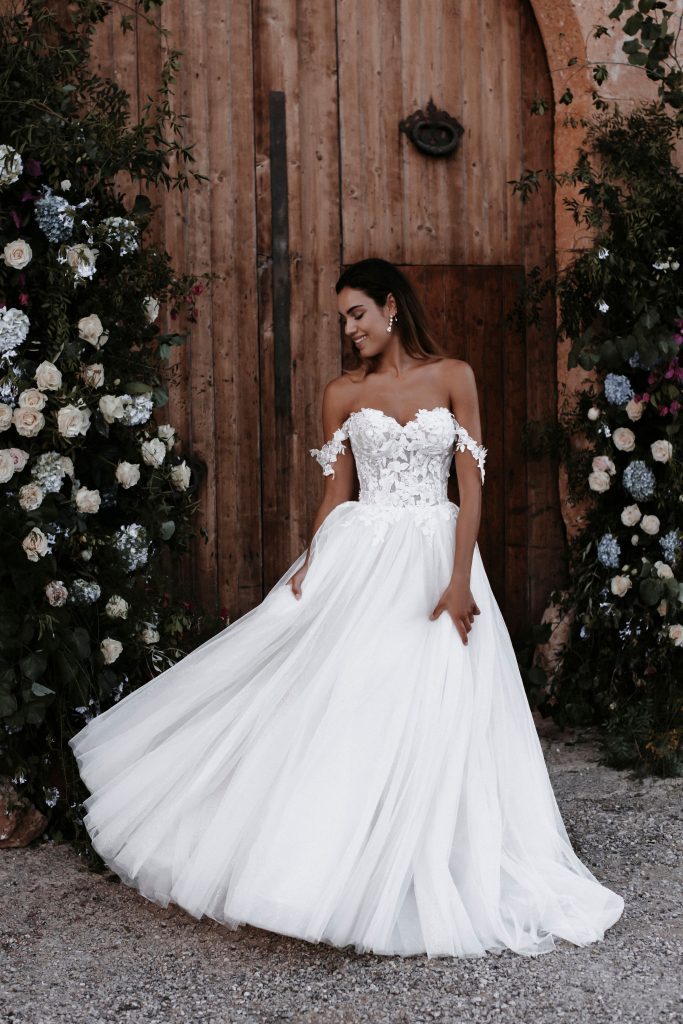 Contemporary Wedding Dresses in Boerne
Boerne also caters to brides with a penchant for contemporary fashion. Modern wedding dress trends have overtaken the bridal world, featuring sleek silhouettes celebrating simplicity and clean lines. Minimalism is essential, with unembellished gowns exuding effortless sophistication. Unique fabrics such as silk crepe, satin, and Mikado bring a touch of luxury to contemporary designs. Boerne Brides can find various stylish options that beautifully blend modern aesthetics with bridal charm.
Designer Wedding Dresses in Boerne
Suppose you're looking for an extraordinary wedding dress. In that case, Boerne is home to esteemed designers who have made their mark in the bridal industry. These designers infuse their creations with artistry, craftsmanship, and attention to detail, resulting in breathtaking gowns that capture the essence of every bride's vision. From ethereal bohemian designs to glamorous Hollywood-inspired looks, Boerne's designer wedding dresses cater to various styles, ensuring every bride feels like a true fashion icon on her wedding day.
Custom Wedding Dresses in Boerne
For brides seeking a truly unique and personalized experience, Boerne offers a selection of skilled artisans who craft custom wedding dresses. Collaborating closely with brides, these talented designers bring their visions to life, creating one-of-a-kind dresses that reflect individual personalities and styles. Custom wedding dresses allow brides to express their creativity, ensuring a gown that is exclusively theirs and evokes cherished memories for years.
Selecting the perfect wedding dress is a momentous decision for any bride-to-be. Boerne provides a treasure trove of options, and navigating through them can be exciting. Consider your body type, as certain dress styles flatter different figures. The guidance of experienced bridal consultants in Boerne can help you discover the dress that enhances your best features and makes you feel confident and radiant on your special day. Personal style and budget are crucial factors, so exploring various options will ensure you find a wedding dress that aligns with your preferences and financial plan.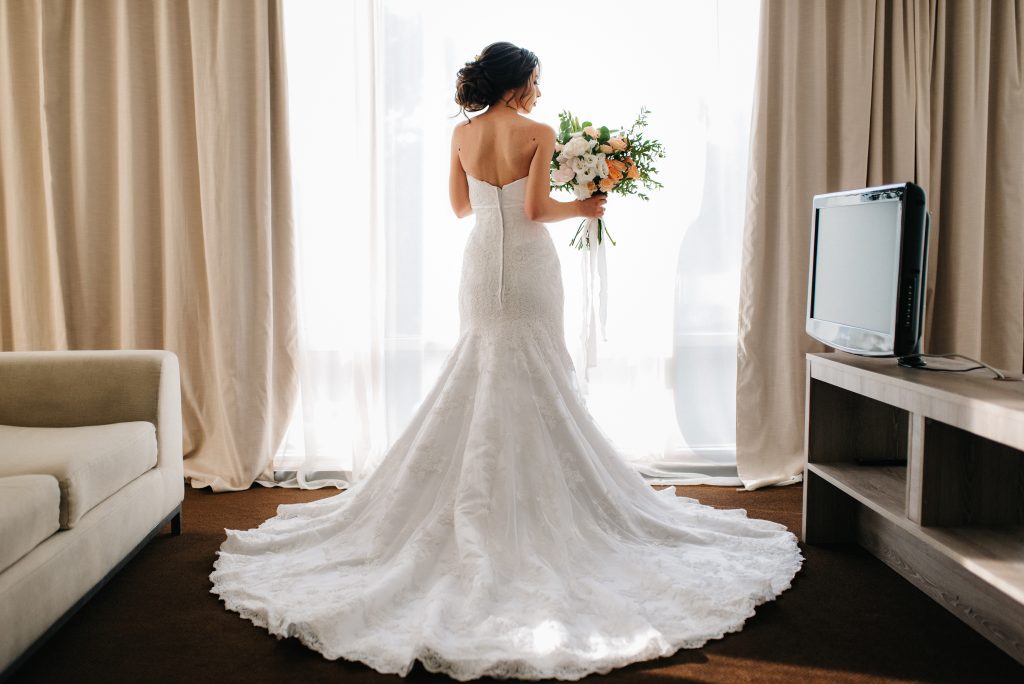 Boerne is renowned for its exquisite bridal boutiques and shops, each offering a unique selection of wedding dresses. These establishments provide an intimate and luxurious shopping experience, ensuring every bride feels royalty. Bridal consultants in Boerne take pride in their exceptional service, providing personalized attention and guidance to help brides find their dream dresses. Exclusive collections from renowned designers are often available, making the shopping experience even more special.
Wedding Dresses Alterations and Preservation in Boerne Texas
To achieve the perfect fit, professional wedding dress alterations are essential. Boerne is home to skilled seamstresses specializing in bridal alterations, ensuring every dress fits like a dream. These experts meticulously tailor the gown to your measurements, providing comfort and confidence on your wedding day. Additionally, Boerne offers wedding dress preservation services to protect your gown and preserve its beauty for generations to come.
Accessories to Complement the Wedding Dress
In addition to the wedding dress itself, the right accessories can elevate your bridal look to new heights. Boerne's bridal boutiques offer a variety of accessories, including veils, headpieces, jewelry, and shoes. These carefully curated collections allow you to find the perfect finishing touches that complement your dress and reflect your style. Whether you opt for a traditional veil or a modern headpiece, Boerne's accessory options will enhance your overall bridal ensemble.
Bridal Beauty and Styling in Boerne
Boerne boasts a selection of talented beauty salons and stylists who specialize in bridal hair and makeup. From romantic updos, these professionals are skilled in creating bridal beauty that enhances your natural features . So with their expertise, you can achieve a radiant and look that will leave everyone in awe.
Finding the perfect wedding dress doesn't mean breaking the bank. Boerne offers budget-friendly options for brides who are mindful of their wedding expenses. Sample sales, where you can purchase designer dresses at reduced prices, are popular. Additionally, pre-owned wedding dresses services are available, allowing brides to find their dream dresses at a fraction of the cost. Boerne ensures every bride can have a stunning wedding dress without compromising their budget.
The Significance of Wedding Dress Shopping Experience
Shopping for a wedding dresses in Boerne Texas is a once-in-a-lifetime experience with immense sentimental value. It's a time to create cherished memories with loved ones and celebrate the journey to matrimony. The emotional aspect of finding the perfect dress must be balanced. Also Boerne's bridal boutiques understand the significance of this experience and strive to create a warm and welcoming environment where brides can embrace the joy and excitement of discovering their dream wedding dress.
Real Bride Stories from Boerne
Hearing real-life stories from brides who found their dream dresses in Boerne can be incredibly inspiring. These personal anecdotes highlight brides' remarkable experiences while searching for their perfect wedding gowns. From the initial excitement of stepping into a boutique to the overwhelming joy of finding "the one," these stories add a touch of authenticity and connection to the journey of finding a stunning wedding dress in Boerne.
The Impact of Social Media on Wedding Dress Trends
Social media has revolutionized the wedding industry, including bridal fashion. Platforms like Instagram and Pinterest have become go-to sources for wedding dress inspiration. Boerne brides can leverage the power of social media by following wedding dress designers, bridal boutiques, and influential accounts to discover the latest trends and gain insights into the world of wedding dresses. With Popular hashtags and statements provide a continuous stream of ideas and help brides stay updated on the ever-evolving wedding dress scene.
The Fiancée Bridal Boutique Boerne Experience
When you visit Fiancée Bridal Boutique Boerne, you can expect an inviting and luxurious atmosphere that sets the stage for an unforgettable experience. Also our boutique is designed to make you feel comfortable and pampered, with elegant decor and spacious fitting rooms. From the moment you step through our doors, we strive to create a warm and welcoming environment that adds to the joy and excitement of your bridal journey.
Seamstress Services for Perfect Fit
At Fiancée Bridal Boutique Boerne, we understand that the perfect fit is essential for your wedding gown. We offer professional seamstress services to ensure that your dress fits you like a glove. Our skilled seamstresses will make any necessary alterations to ensure that your gown hugs your body in all the right places, creating a flattering and comfortable fit that makes you feel like a princess on your big day.
Finding your dream dress at Fiancée Bridal Boutique Boerne is an exciting and personalized process. To begin, we recommend scheduling an appointment to ensure that you receive the undivided attention of our consultants. Also we will discuss your style preferences, wedding theme, and budget during your appointment to narrow the selection. So you will have the opportunity to try on various gowns and accessories until you find the one that makes your heart skip a beat.
At Fiancée Bridal Boutique Boerne, we proudly showcase exclusive collections from renowned designers. Our boutique collaborates with these designers to offer you exceptional options not available elsewhere in the region. Also you can trust that you will find unique and exquisite designs that make you feel like the bride you've always envisioned.
Personalized Service and Expert Consultation
At Fiancée Bridal Boutique Boerne, we believe that finding your dream dress should be a memorable and enjoyable experience. Our dedicated team of bridal consultants provides personalized service, offering expert advice and guidance throughout your appointment. So we take the time to understand your preferences, body shape, and wedding vision, ensuring that you feel confident and beautiful on your special day.
Exquisite Wedding Gowns for Every Bride
Our boutique houses an extensive collection of exquisite wedding gowns to suit every bride's unique style and vision. Whether you dream of a romantic lace gown, a modern and sleek silhouette, or a bohemian-inspired dress, we have the perfect options. Also we carefully select gowns from top designers known for their craftsmanship, quality fabrics, and attention to detail, ensuring you find the dress that truly reflects your individuality.
Accessories That Complete Your Bridal Look
To complement your bridal gown, Fiancée Bridal Boutique Boerne offers a range of accessories that add the perfect finishing touches to your ensemble. From sparkling tiaras and delicate veils to statement jewelry and elegant shoes, our selection allows you to create a cohesive and stunning bridal look from head to toe. Also our knowledgeable staff is always available to provide expert advice and help you find the accessories that enhance your gown and reflect your style.
The Essence of Fiancée Bridal Boutique Boerne
At Fiancée Bridal Boutique Boerne, we understand that your wedding day is one of your life's most essential and cherished moments. Our boutique aims to provide a magical experience where you can find the dress of your dreams while feeling supported and inspired. So We pride ourselves on offering a curated selection of bridal gowns, accessories, and exceptional services to make your journey to the altar unforgettable.
Appointment and Contact Information
To book an appointment at Fiancée Bridal Boutique Boerne, please visit our website or contact us using the following information:
Conclusion
Boerne, Texas, offers a breathtaking array of stunning wedding dresses for every bride's unique style and preferences. From traditional designs gowns, Boerne's bridal boutiques and designers ensure that every bride finds the dress of her dreams. So with an emphasis on exceptional service, and attention to detail, Boerne's wedding dress scene is an invitation to create unforgettable memories.