Introduction
Planning a wedding can be an exciting and overwhelming experience, and one of the most important aspects is finding the perfect wedding dress. Boerne, Texas, offers a range of bridal boutiques and shops where you can find a dress that matches your style and makes you feel like a princess on your special day. This guide will take you through wedding dress shopping in Boerne, Texas, from start to finish.
When it comes to wedding dress shopping, selecting the right bridal boutique is crucial. Boerne, Texas, offers a variety of options, each with its unique selection and atmosphere. Research and read reviews to find a boutique that aligns with your style and preferences. Consider factors such as their collection, customer service, and price range.
Researching Styles and Trends
Before you head out to the boutiques, knowing the wedding dress styles and trends you're interested in is helpful. For inspiration, browse through bridal magazines, wedding websites, and social media platforms. Take note of the designs, fabrics, and silhouettes that catch your eye. This research will guide you during your shopping experience.
Setting a Budget
Wedding dresses come in a wide range of prices, so it's essential to establish a budget before you start shopping. Determine how much you will spend on your dream dress and inform the bridal boutiques about your price range. This will ensure you try on dresses within your budget and avoid disappointments later.
Making Appointments
To ensure personalized attention and a dedicated stylist during your visit, it's best to make appointments at the bridal boutiques in Boerne, Texas. Call ahead and schedule appointments with the boutiques you are interested in. This way, you can have a stress-free and enjoyable shopping experience.
Trying on Wedding Dresses
When the day of your appointment arrives, be prepared to try on various wedding dresses. Bring along a few close friends or family members whose opinions you trust. Start with the styles you researched but keep an open mind. The clothing you fall in love with might differ from what you initially envisioned. Trust your instincts and choose a dress that makes you feel beautiful and confident.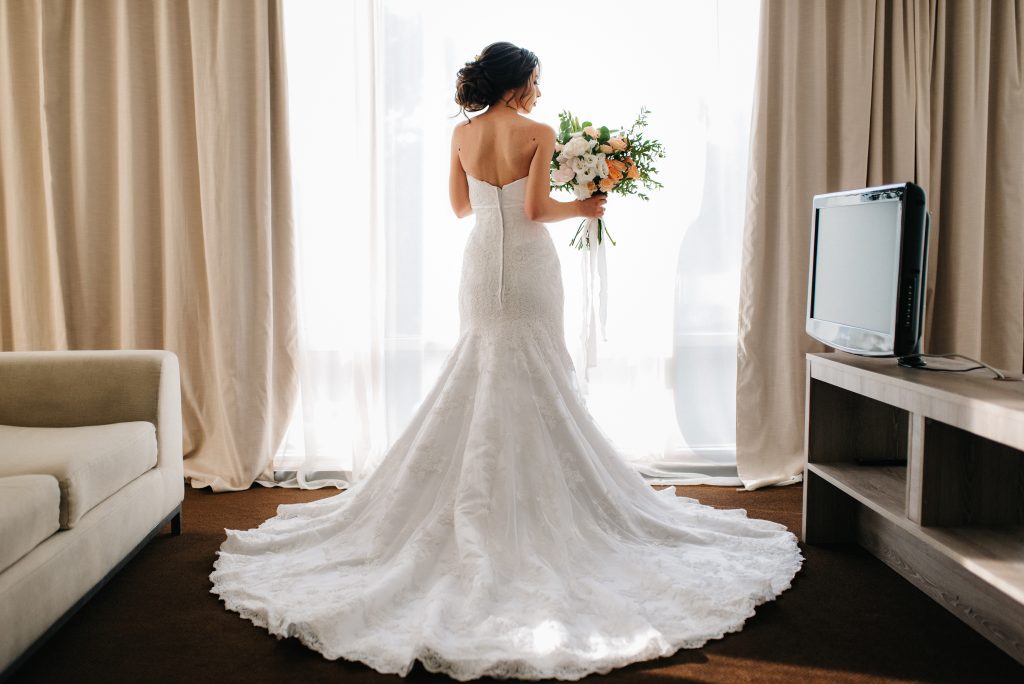 Accessorizing Your Wedding Dress
Once you have found the perfect wedding dress in Boerne, Texas, it's time to think about accessories. Consider what kind of veil, headpiece, jewelry, and shoes will complement your attire. Many bridal boutiques in Boerne offer accessories to complete your bridal look. Try different options and find the ones that enhance your overall appearance.
Making the Final Decision
Choosing a wedding dress can be an emotional decision, but taking your time and making the right choice is essential. If you're torn between two dresses, consider comfort, style, and how well the dress aligns with your wedding theme. Listen to your heart and select the clothing that genuinely speaks to you.
Alterations and Fittings
After purchasing your wedding dress in Boerne, Texas, you may need alterations to ensure a perfect fit. Find a reputable sewist or tailor who specializes in bridal alterations. Schedule fittings well in advance to allow ample time for any necessary adjustments. This will ensure your dress fits you like a glove on your wedding day.
Caring for Your Wedding Dress
Taking care of your wedding dress before and after the big day is crucial to preserve its beauty. Follow the care instructions provided by the boutique or designer. Consider professional preservation services if you plan to keep your dress as a cherished memento. Proper storage and handling will ensure that your dress remains in excellent condition for years.
Fiancée Bridal Boutique Boerne: Offering a wide range of designer wedding dresses, Fiancée Bridal Boutique provides personalized service and a comfortable atmosphere for brides-to-be.
The Bridal Salon: With a curated collection of luxurious wedding gowns, The Bridal Salon is known for its attention to detail and exceptional customer service.
Bliss Bridal: Bliss Bridal showcases a variety of modern and timeless wedding dresses, accompanied by expert stylists who will help you find your dream dress.
Conclusion
Finding the perfect wedding dress in Boerne, Texas, is exciting. By choosing the right bridal boutique, doing your research, setting a budget, and making appointments, you can have a smooth and enjoyable shopping experience. Trust your instincts and select a dress that makes you feel beautiful and confident on your special day.
FAQs
1. How long before the wedding should I start shopping for a dress?
It's recommended to start shopping for your wedding dress around 9 to 12 months before your wedding date. This allows enough time for ordering the dress, alterations, and any unexpected delays.
2. Can I bring my friends and family to the appointments?
Yes, bringing a few close friends or family members whose opinions you trust can be helpful. However, be mindful not to overcrowd the appointments and consider limiting the number of people to avoid conflicting views.
3. Can I buy a wedding dress off the rack?
Many bridal boutiques offer ready-to-wear wedding dresses that you can purchase off the rack. This can be a great option if you have a shorter timeline or prefer to see the dress in person before buying.
4. How much should I budget for a wedding dress in Boerne Texas?
Wedding dress prices can vary greatly depending on the designer, fabric, and level of customization. Set aside around 10% to 15% of your wedding budget for your dress.
5. What should I do with my wedding dress after the wedding?
You can preserve your wedding dress as a cherished keepsake or consider donating or selling it. To maintain it, consult a professional preservation service for proper storage and maintenance.
Finding Your Dream Dress: Exploring the Collections
Classic Elegance: Timeless Silhouettes
The Classic Elegance collection at Fiancée Bridal Boutique embraces traditional designs with a contemporary twist. From ball gowns to A-line dresses, these timeless silhouettes flatter every figure. Intricate lacework, delicate beadwork, and luxurious fabrics combine to create romantic and sophisticated looks that will leave you feeling like royalty on your big day.
Modern Chic: Contemporary Designs
The Modern Chic collection offers a range of contemporary designs for the fashion-forward bride seeking something unique. With clean lines, innovative cuts, and unexpected details, these dresses push the boundaries of traditional bridal fashion. From sleek mermaid gowns to modern separates, this collection caters to brides who want to make a statement and embrace their individuality.
Bohemian Romance: Effortless Beauty
The Bohemian Romance collection is perfect if you envision yourself as a free-spirited bohemian bride. These ethereal dresses capture the essence of laid-back elegance with flowing fabrics, floral embellishments, and whimsical details. From dreamy lace to soft chiffon, these dresses are designed to create a sense of effortless beauty that complements any outdoor or rustic wedding.
Glamorous Extravaganza: Red-Carpet Worthy
The Glamorous Extravaganza collection offers red-carpet-worthy gowns for brides who want to dazzle and turn heads. These show-stopping dresses feature intricate beadwork, dramatic silhouettes, and luxurious fabrics. With their opulent details and glamorous flair, these dresses will make you feel like a true Hollywood star on your wedding day.
The Fiancée Experience: Exceptional Service and Expert Guidance
Fiancée Bridal Boutique's dedicated team of experienced consultants is committed to providing you with an exceptional bridal experience. From the moment you schedule your appointment to the final fitting, their knowledgeable staff will guide you through the process, ensuring that every detail is taken care of. They understand that finding the perfect wedding dress is a deeply personal journey, and they support you every step of the way.
Creating Custom Masterpieces: Tailoring to Perfection
In addition to its exquisite collections, Fiancée Bridal Boutique also offers custom design services. Their skilled team of designers can bring your vision to life, creating a one-of-a-kind masterpiece that reflects your unique style and personality. Whether you desire a custom-made gown or wish to modify an existing design, they will work closely with you to ensure every detail is perfect, resulting in a truly your dress.
A Look Behind the Scenes: Unveiling the Design Process
Have you ever wondered how a wedding dress goes from a concept to a breathtaking reality? Fiancée Bridal Boutique takes you behind the scenes, giving you a glimpse into the design process. From initial sketches to fabric selection and pattern-making to meticulous hand-sewn details, you will gain a deeper appreciation for the craftsmanship and artistry of creating these stunning dresses.
Accessories that Complete Your Ensemble: The Perfect Complements
Every bridal ensemble is complete with the perfect accessories. Fiancée Bridal Boutique offers an extensive selection of accessories to complement your wedding dress beautifully. From delicate veils and headpieces to sparkling jewelry and elegant shoes, their knowledgeable stylists will assist you in choosing the perfect finishing touches to enhance your overall look and make you feel like a true bride.
Keeping Up with the Latest Trends: Staying Fashion-Forward
As bridal fashion evolves, Fiancée Bridal Boutique stays ahead of the curve by curating collections that reflect the latest trends. By attending bridal fashion shows and closely following the industry, they ensure their brides can access the most fashionable and up-to-date styles. Whether you're drawn to boho-chic, minimalist elegance, or glamorous extravagance, they have a dress that will capture your heart and keep you on-trend.
Sustainability and Ethical Practices: A Commitment to the Environment
Fiancée Bridal Boutique is committed to sustainability and ethical practices. They strive to minimize their environmental impact by using eco-friendly fabrics, reducing waste, and supporting fair trade. By choosing a dress from Fiancée Bridal Boutique, you can feel confident that you are not only wearing a stunning gown but also making a positive contribution to the environment and supporting responsible fashion.
Making Memories: Capturing the Perfect Moments
Your wedding day is a collection of beautiful moments you will cherish forever. Fiancée Bridal Boutique understands the importance of capturing these precious memories. They offer recommendations for talented photographers specializing in weddings, ensuring your special day is beautifully documented. From the joyous first look to the tearful exchange of vows, they want to ensure that every moment is preserved in stunning photographs.
Destination Weddings: Dressing for the Perfect Location
Are you dreaming of a destination wedding? Fiancée Bridal Boutique has the perfect dresses for your idyllic location. Whether you're saying "I do" on a sandy beach, in a picturesque vineyard, or atop a mountain, their destination wedding collection offers lightweight fabrics, breathable designs, and effortless styles that are perfect for any destination. Embrace the beauty of your surroundings with a breathtaking and practical dress.
Testimonials: Real Brides, Real Stories
Don't just take our word for it. Read the heartfelt testimonials from real brides who have experienced the magic of the Fiancée Bridal Boutique. Their stories of finding the dress of their dreams and the exceptional service they received will inspire and reassure you that you are in good hands. These testimonials testify to Fiancée Bridal Boutique's commitment to creating memorable experiences and ensuring customer satisfaction.
Discover the perfect wedding dress that captures your heart at Fiancée Bridal Boutique Boerne. Book your appointment today and step into a world of timeless elegance. Experience personalized service, exquisite craftsmanship, and a curated collection of stunning gowns. Say "yes" to the dress and start your journey forever. #BridalBeauty #UnforgettableMoments