Are you on the exciting journey of finding your dream wedding dress? The quest for the perfect bridal gown can be both thrilling and overwhelming. With so many options available, it's essential to approach this process carefully to ensure you find the dress that makes you feel like a true bride. This article will guide you through finding your perfect bridal dress, from understanding your body shape to choosing the fitting silhouette, fabrics, and embellishments to accessorize your bridal look. So let's dive in and make your wedding dress shopping experience memorable!
Introduction
Your wedding dress reflects your style and is a significant part of your special day. It's essential to start your dress-shopping journey with a clear understanding of what you're looking for and what suits your body shape. By following these tips and recommendations, you'll be well on your way to finding your dream bridal gown.
Every bride is unique, and finding a dress that flatters your body shape is vital to feeling confident and beautiful on your wedding day. Take time to understand your body shape, whether pear, hourglass, apple, rectangle, or inverted triangle. Knowing your body shape will help you determine which dress styles will enhance your best features and create a balanced silhouette.
Choosing the Right Silhouette
The silhouette of a wedding dress plays a significant role in how it complements your body shape. There are various options, such as A-line, ball gown, mermaid, sheath, or fit-and-flare. Each silhouette has its characteristics and can emphasize different parts of your body. Try on different silhouettes to see which one makes you feel most comfortable and confident.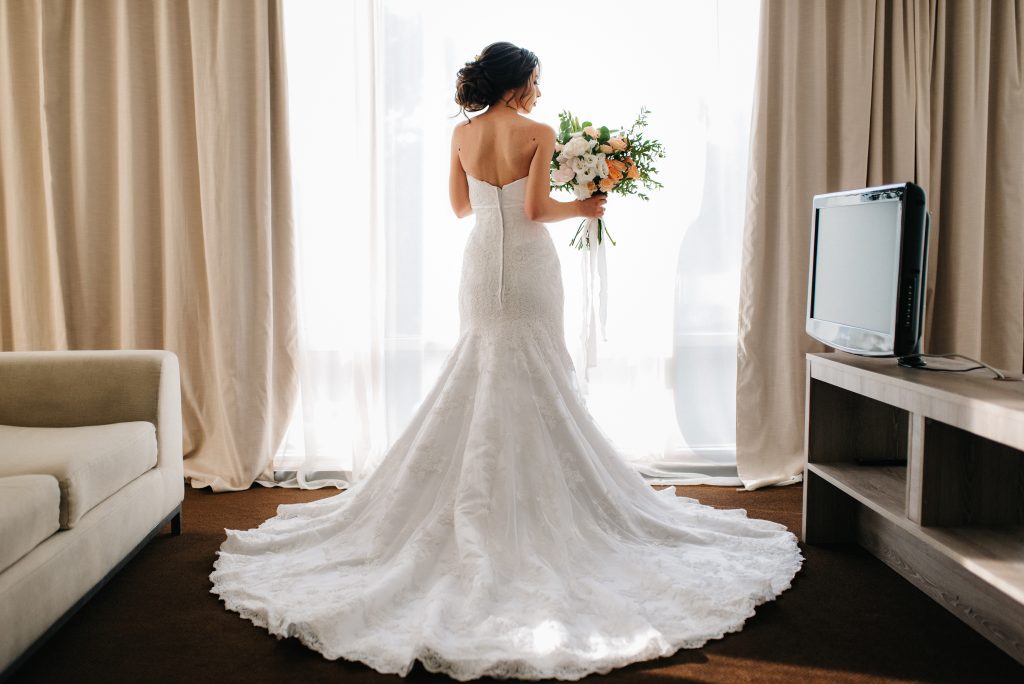 Fabrics and Embellishments
The choice of fabric and embellishments can significantly impact your wedding dress's overall look and feel. Each fabric creates a different effect, from luxurious silk and satin to romantic lace and tulle. Consider the season and venue of your wedding to select the most suitable fabric. Additionally, explore embellishments like beading, embroidery, or sequins to add a touch of sparkle to your gown.
Neckline and Sleeve Options
The neckline and sleeves of your dress can enhance your features and add personality to your bridal look. Whether you prefer a sweetheart, V-neck, off-the-shoulder, or halter neckline, each option creates a distinct style. Similarly, sleeves can range from long and lacey to strapless or even cap sleeves. Experiment with different necklines and sleeve options to find the one that complements your taste and comfort level.
Considerations for Outdoor Weddings
If you're planning an outdoor wedding, it's essential to consider the practical aspects when choosing your dress. Lightweight fabrics, shorter trains, and breathable designs can significantly affect your comfort level throughout the day. Discuss your venue and wedding plans with your bridal consultant to ensure you find a dress that suits the outdoor setting.
Wedding dresses come in a wide range of price points, and it's essential to establish a budget before you start shopping. Remember, a higher price doesn't always guarantee a perfect dress. Many affordable options offer exceptional quality and style. Explore sample sales, trunk shows, and online retailers to find budget-friendly alternatives without compromising on the look and feel of your dress.
Customizing Your Dress
Customizing your wedding dress can be an excellent way to add personal touches and make it yours. Consider adding a belt, changing the neckline, or incorporating unique details to match your vision. Consult a professional seamstress or designer who can guide you through the customization process and bring your ideas to life.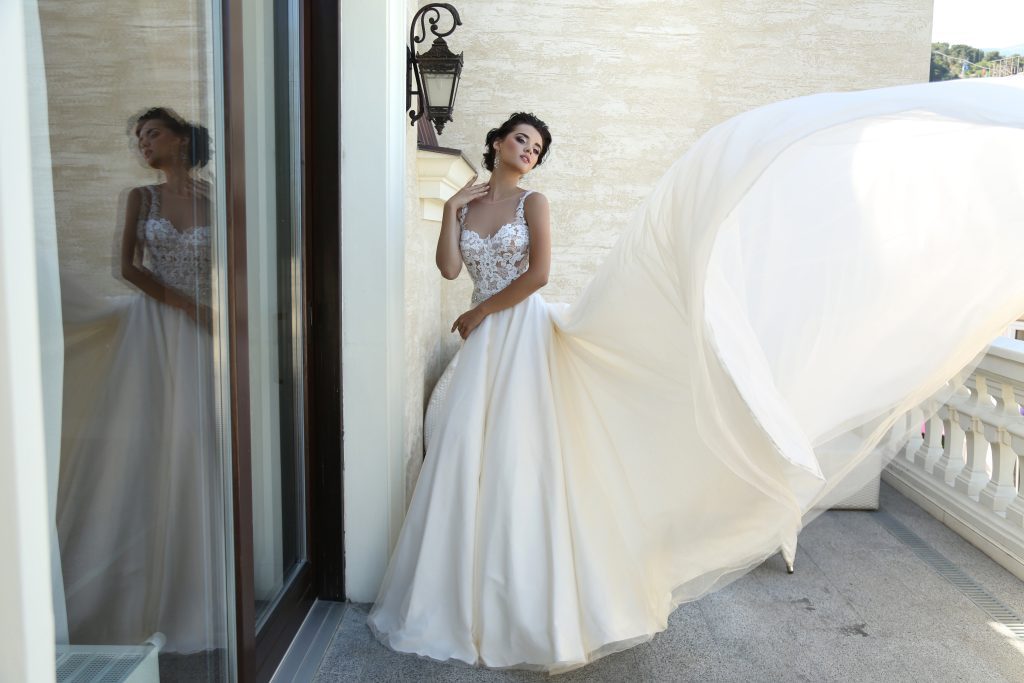 Choosing the right bridal boutique is crucial for a successful dress shopping experience. Look for boutiques with a wide selection of dresses, knowledgeable staff, and excellent customer reviews—schedule appointments at different boutiques to explore options and find a boutique where you feel comfortable and supported.
Trying on Dresses
When you finally enter the bridal boutique, it's time to try on dresses! Be open to different styles and take the advice of your bridal consultant. Trying on dresses is an opportunity to explore different looks and discover unexpected favorites. Please pay attention to how each dress makes you feel and how well it suits your body shape and style.
Accessorizing Your Bridal Look
Accessories can elevate your bridal look and add that extra sparkle and charm. Consider complementing your dress with a veil, headpiece, jewelry, or a statement belt. However, be mindful not to overpower the dress with excessive accessories. Choose pieces that enhance your overall look and reflect your personality.
While timeless elegance is always in style, the latest bridal dress trends are worth watching. Trends can inspire, from unique necklines and unconventional fabrics to intricate lace patterns and modern silhouettes. Explore bridal magazines, websites, and social media platforms to discover the latest trends and find elements that resonate with your style.
Dress Alterations and Fittings
Once you've found your dream dress, it's time to ensure the perfect fit. Most wedding dresses require alterations to achieve a tailored look. Schedule fittings with a skilled seamstress who specializes in bridal alterations. Be prepared for multiple fittings to ensure your dress fits flawlessly on your big day.
Finalizing Your Choice
Choosing your perfect bridal dress is an exciting process. However, taking your time and making an informed decision is essential. If you're torn between two dresses, revisit the boutiques for another try-on session. Ask for opinions from trusted friends or family members. Ultimately, wear the dress that makes you feel the most beautiful, confident, and ready to say "I do."
FAQs
1. How early should I start shopping for my wedding dress?
It's recommended to start shopping for your wedding dress at least 9-12 months before your wedding date. This allows ample time for order placement, alterations, and any customization you desire.
2. What should I bring to my dress fitting appointments?
Bring any undergarments, shoes, or accessories you plan to wear on your wedding day. This will give you a better idea of how the dress will look and ensure a more accurate fitting.
3. Can I buy a wedding dress online?
Yes, you can buy a wedding dress online. However, it's essential to thoroughly research, read reviews, and check the sizing charts carefully. Consider ordering from reputable websites or designers with a good return policy.
4. How much should I budget for a wedding dress?
Wedding dress prices can vary significantly. It's recommended to allocate 10-15% of your wedding budget for your dress. However, attractive options are available at various prices to suit different budgets.
5. Can I rent a wedding dress instead of buying one?
Yes, renting a wedding dress is a viable option for brides who want to wear a designer gown for a fraction of the cost. Many bridal rental companies offer a wide range of styles and sizes.
Are you searching for the perfect bridal boutique in Boerne to find your dream wedding dress? Look no further than Fiancée Bridal Boutique Boerne! Our boutique is dedicated to helping brides like you discover the dress that makes them feel beautiful, confident, and ready to walk down the aisle. With a wide selection of stunning bridal gowns and a team of knowledgeable consultants, we are here to make your dress shopping experience unforgettable.
A Boutique Experience like No Other
At Fiancée Bridal Boutique Boerne, we understand that finding the perfect wedding dress is a once-in-a-lifetime moment. That's why we strive to create a welcoming and personalized experience for every bride who walks through our doors. Our boutique exudes elegance and charm, providing a comfortable and luxurious setting for exploring various bridal styles and designers.
Expert Guidance from Our Consultants
Our team of bridal consultants is passionate about helping brides bring their wedding dress visions to life. Their extensive knowledge of bridal fashion and trends will guide you through the entire process, from understanding your preferences and body shape to selecting the most flattering silhouettes and fabrics. They will be your trusted advisors, offering honest opinions and ensuring you find the dress that reflects your unique style.
A Collection of Exquisite Bridal Gowns
At Fiancée Bridal Boutique Boerne, we curate a collection of exquisite bridal gowns from renowned designers. Whether you envision a romantic ball gown, a sleek mermaid silhouette, or a bohemian-inspired sheath dress, we have options to suit every bride's taste. Our dresses are crafted with attention to detail and use high-quality fabrics and embellishments to create a stunning bridal look. You can be confident that your chosen dress will make you feel like a true bride on your special day.
Schedule Your Appointment Today
Take advantage of the opportunity to experience the magic of Fiancée Bridal Boutique Boerne. Please schedule your appointment today, and let us help you find your dream wedding dress. Our dedicated team is excited to be part of your bridal journey and make your dress shopping experience memorable and enjoyable. Visit us at [insert address] or call [insert phone number] to book your appointment. We can't wait to welcome you to our boutique and help you find the dress to make you feel like the most beautiful bride on your special day.
Conclusion
Finding your perfect bridal dress is an unforgettable experience filled with excitement and emotions. You can create a truly unique bridal look by understanding your body shape, exploring different silhouettes, fabrics, and embellishments, and customizing your dress. Remember to enjoy the journey, trust your instincts, and choose a dress that makes you shine on your wedding day. Congratulations, and happy dress shopping!